Weíre a one-of-a-kind company with two very distinct personalities. To millions, 1-800-DENTIST? is the nationís most-trusted provider of free, personalized dentist referrals. Our mission as THE ORIGINAL DENTAL REFERRAL SERVICE? company is to help the greatest number of people find the quality dental care they need.
Dental professionals know 1-800-DENTIST as the ?go-to people? for innovative marketing solutions that help dental practices acquire and retain more patients. Our dental marketing tools are used in thousands of practices nationwide because they allow dentists to focus on what they do best ? providing great dentistry.
NOTE; This LinkedIn page provides general marketing advice. Please consult your legal professional to ensure compliance with applicable laws in your jurisdiction.
Company Name:


1-800-dentist

(View Trends)

Headquarters: (View Map)

Los Angeles, CA, United States

Marketing and Advertising

200 - 500 employees
260820 Global Rank
54748 United States
132 K Estimated Visits
Traffic Sources
Search

50.48%

Direct

45.44%

Referrals

1.70%

Mail

1.60%

Social

0.78%

Display

0.00%
Powered by
Global Rank 235,446 319,219
Links In Count 1,168 767
United States Rank
65,464
United States Page Views
85.6%
Mobile App Data
MixRank is the most comprehensive database of mobile apps, developers, SDKs, technologies, services, and integrations.
Learn more.
App Url: https://itunes.apple.com/app/1-800-dentist/id589316787
App Support: http://www.patientactivator.com
Genre: Business
Bundle ID: com.dennis.patientactivator
App Size: 2.48 M
Version: 1.0
Release Date: January 30th, 2013
Update Date: January 30th, 2013
Description:
Manage your dental practice from the palm of your hand with the FREE Mobile Dashboard App for PatientActivator? from 1-800-DENTIST?.
Dentists and office managers — get instant 24/7 access to PatientActivator. Take dentistry's #1 communication and online marketing service wherever you go.
?Access critical practice info anywhere, anytime
?View all appointments in your schedule
?Quickly make patient calls with a tap
?Monitor your PatientActivator ratings and reviews
?Get more done when you're away from the office.
Download your free app today!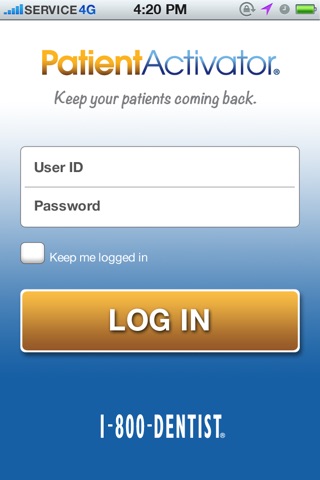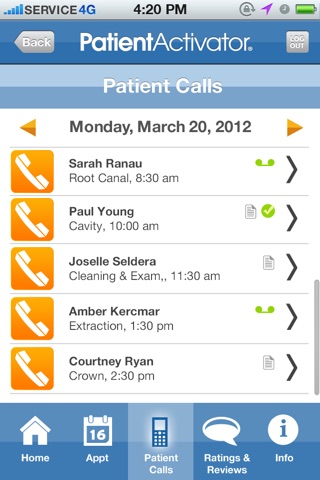 Where the hell is the one for customers
What? Where is the service?
This app should be awesome but it's not
When it comes to staying organized with work I really try hard to stay on top of it. I have patient activator for work where I am in charge of the schedule. I saw this app and couldn't wait to use it. Right away I'm very disappointed because I knew I added someone to my schedule earlier that morning but not showing in the schedule 8+ hours later. I really think it should update every 3 hours or so to be more useful and the format of the app is way too simple. Please make this app better. Thanks
Capture
Capture makes reporting bugs easy, which increases the productivity of your test engineers; standardized reporting enables your developers to focus on fixing the bug instead of finding and reproducing it. Capture greatly improves your mobile testing processes. Just shake the phone to report a bug and be amazed how easy it can be.
Core Location Framework
The Core Location framework lets you determine the current location or heading associated with a device. The framework uses the available hardware to determine the user's position and heading. You use the classes and protocols in this framework to configure and schedule the delivery of location and heading events. You can also use it to define geographic regions and monitor when the user crosses the boundaries of those regions. In iOS, you can also define a region around a Bluetooth beacon.
Flurry
Flurry SDK for analytics tracking and reporting. FlurryAds SDK also included.
JSONKit
A Very High Performance Objective-C JSON Library.
PhoneGap
Easily create apps using the web technologies you know and love: HTML, CSS, and JavaScript PhoneGap is a free and open source framework that allows you to create mobile apps using standardized web APIs for the platforms you care about.
UIKit
The UIKit framework (UIKit.framework) provides the crucial infrastructure needed to construct and manage iOS apps. This framework provides the window and view architecture needed to manage an app's user interface, the event handling infrastructure needed to respond to user input, and the app model needed to drive the main run loop and interact with the system.
Native

0.00%

Standard

100.00%
Longest Running Ad
Dates Active
Jan 25, 2019 to May 20, 2019
Dates Active
Nov 01, 2019 to Nov 07, 2019
Dates Active
Apr 02, 2019 to Jun 20, 2019
Dates Active
Jun 02, 2019 to Jun 24, 2019
Dates Active
Sep 30, 2019 to Oct 25, 2019
Dates Active
Jan 24, 2019 to Jul 30, 2019