We are a leading European company engaged in the development and manufacture of products in the field of IP intercoms and Access control. We offer our customers customised products with added value, at just the right time with regard to the latest trends and current requirements. This means that we can satisfy even the highest demands, thereby strengthening our position as a leader and innovator in our field. Our product portfolio includes door & security intercoms, lift communicators, IP public address systems, a wide range of GSM/UMTS gateways and PBXs, focusing on SME, LME, architects, planners, system integrators and operators.
Company Name:


2n Telekomunikace A.s.

(View Trends)

Telecommunications

200 - 500 employees
173851 Global Rank
3512 Czech Republic
201 K Estimated Visits
Traffic Sources
Search

51.51%

Direct

43.20%

Referrals

2.69%

Social

1.60%

Mail

0.64%

Display

0.35%
Geography Breakdown
44.83%

8.19%

3.98%

3.40%

2.93%
Powered by
Global Rank 185,453 180,630
Links In Count 232 9
India Rank
124,767
India Page Views
8.2%
Mobile App Data
MixRank is the most comprehensive database of mobile apps, developers, SDKs, technologies, services, and integrations.
Learn more.
10 SDKs
2.97 Avg. Rating
36 Total reviews
App Url: https://itunes.apple.com/app/2n-telekomunikace-a-s-/id795006749
App Support: http://www.2n.cz/en/support/
Genre: Business
Bundle ID: cz.quanti.hipios
App Size: 107 M
Version: 4.4.2
Release Date: January 20th, 2014
Update Date: July 11th, 2017
Description:
Complete new design, new features
Easy and user friendly way to answer video phone calls from 2N? Helios IP intercom on your mobile device.
New features:
· Complete new design
· Support landscape/portrait mode on iPad
· DND mode
· SIP proxy support

The 2N? Helios IP Mobile application is available for iPhones and iPads.

Works within WiFi network, or remote within SIP proxy line
For more information visit www.2n.cz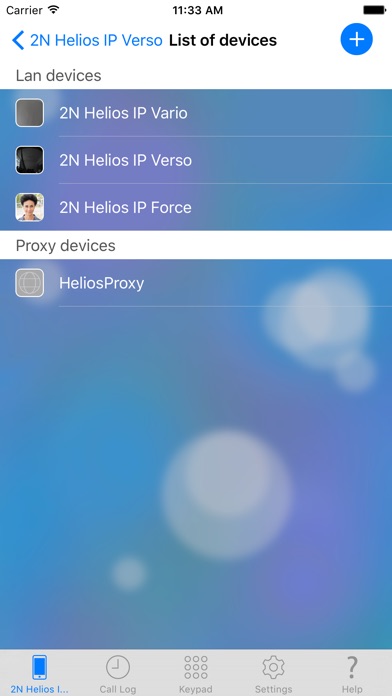 Maybe this one isn't taken
Frustrated
App randomly drops the intercom connection claiming the device isn't available. Completely useless if someone is at the gate waiting to be let in and had to call us. Delighted you have to rewrite the review if the nickname is taken. No wonder you don't have enough reviews for a rating!
Funktionalit?ten
Die Applikation funktioniert weitestgehend sehr gut. Der Zugriff auf meine Helios IP Verso Türstation funktioniert über mein Ipad. Allerdings bekomme ich keine Rufnummernsignalisierung auf meinem Ipad sobald jemand klingelt, obwohl mein Ipad als registriertes 2N Indoor Touch Ger?t als "sip:IpadGang@127.0.0.1" auftaucht, funktioniert es über den Eintrag ?device:IpadGang" oder mit den Erweiterungen /1 /2 wie in der Bedienungsanleitung beschrieben leider nicht. Es kommt kein Anruf an.
Yoni
This app killing the battery
Messes with my iphone6 volume - this app is rubbish
Very disappointed Wrecks the volume on all our family iPhones 5,6,6plus'. We hate not being able to hear our phones. this app has a major bug. It has reduced the volume of all our phones. That means that our ring tone is very hard to hear, music played on phones is vey soft, etc. this happens even when the app is not open. We discovered that if we open the app and close it again, then volume returns to normal levels (for a while... today, I got 30minute out of it on my run). It also interrupts blue tooth connectivity to wireless headphones and stereos. Fix it or take it off the store!!!
does not work with ios 10
The discovery of devices do not work with ios 10.
NZ
App won't work on my phone
Launch Services
MobileCoreServices
AVFoundation
The AV Foundation framework provides an Objective-C interface for managing and playing audio-visual media in iOS and OS X applications.
Core Foundation Framework
Core Foundation is a framework that provides fundamental software services useful to application services, application environments, and to applications themselves. Core Foundation also provides abstractions for common data types, facilitates internationalization with Unicode string storage, and offers a suite of utilities such as plug-in support, XML property lists, URL resource access, and preferences.
Core Graphics
The Core Graphics framework is based on the Quartz advanced drawing engine. It provides low-level, lightweight 2D rendering with unmatched output fidelity. You use this framework to handle path-based drawing, transformations, color management, offscreen rendering, patterns, gradients and shadings, image data management, image creation, and image masking, as well as PDF document creation, display, and parsing.
Core Location Framework
The Core Location framework lets you determine the current location or heading associated with a device. The framework uses the available hardware to determine the user's position and heading. You use the classes and protocols in this framework to configure and schedule the delivery of location and heading events. You can also use it to define geographic regions and monitor when the user crosses the boundaries of those regions. In iOS, you can also define a region around a Bluetooth beacon.
Foundation Framework
Quartz Core Framework
This collection of documents provides the API reference for the Quartz Core framework, which supports image processing and video image manipulation.
System Configuration F...
This collection of documents describes the programming interfaces of the System Configuration framework. The System Configuration framework provides functions that determine the reachability of target hosts in both a synchronous and an asynchronous manner. It also provides error detection facilities.
UIKit
The UIKit framework (UIKit.framework) provides the crucial infrastructure needed to construct and manage iOS apps. This framework provides the window and view architecture needed to manage an app's user interface, the event handling infrastructure needed to respond to user input, and the app model needed to drive the main run loop and interact with the system.
Native

1.21%

Standard

98.79%
Longest Running Ad
Dates Active
Dec 16, 2017 to Apr 03, 2019
Dates Active
Oct 15, 2019 to Oct 15, 2019
Dates Active
Nov 05, 2019 to Nov 05, 2019
Dates Active
Oct 27, 2019 to Oct 27, 2019
Dates Active
Oct 18, 2019 to Oct 22, 2019
Dates Active
Oct 19, 2019 to Oct 19, 2019
Dates Active
Nov 29, 2019 to Nov 29, 2019
Dates Active
Oct 11, 2019 to Oct 11, 2019