72andSunny has offices in Amsterdam, Los Angeles, New York, Sydney and Singapore. We create cultural impact on behalf of brands and have been recognized as one of Fast Companyís Most Innovative Companies for two years in a row, and are a two-time ?Agency of the Year? winner for Advertising Age and Adweek. Our clients include Activision, adidas, Axe, Carlís Jr./Hardeeís, Carlsberg, Ciroc, Comcast, Coors, Dropbox, eBay, ESPN, Google, General Mills, Seventh Generation, Smirnoff, Starbucks, Tillamook, and truth.
Our mission at 72andSunny is to be a platform for personal growth and creative self expression. To support this, we support people as their lives change, including having kids. Weíve joined Pledge Parental Leave (pledgepl.org), a movement uniting creative companies to give parents paid parental leave. At 72andSunny, primary caregivers receive six months of paid protected leave with an additional month of flex time prior to and post leave as well as six months of uninterrupted medical insurance. Secondary caregivers receive up to four weeks of paid protected leave with the additional month of flex time prior to and post leave as well as four weeks of uninterrupted medical insurance. All new parents also receive a Bugaboo stroller or gift card when their child arrives. Until there is universal support in the U.S. that recognizes the importance of this support, companies need to lead the way and help tip the scales. Weíre committed to reviewing our parent policy on a regular basis to evolve it as needed.
72andSunny.com
facebook.com/72andSunny
twitter.com/72andSunny
instagram: @72andSunny_
---
72U is a creative residency at 72andSunny designed to open people up to new ways of thinking, collaborating, and tackling modern communication problems. Each session is redesigned based on whatís happening in culture, participantsí skill sets and interests, and the opportunities that are presented.
72u.org
72u.tumblr.com
Company Name:


72andsunny

(View Trends)

Headquarters: (View Map)

Playa Vista, CA, United States

Marketing and Advertising

500 - 1,000 employees
1189117 Global Rank
362605 United States
Traffic Sources
Search

63.88%

Direct

31.74%

Referrals

4.07%

Social

0.31%

Display

0.00%

Mail

0.00%
Powered by
Global Rank 257,556
Links In Count 214 35
United States Rank
69,381
61,928
United States Page Views
73.7%
17.6%
Mobile App Data
MixRank is the most comprehensive database of mobile apps, developers, SDKs, technologies, services, and integrations.
Learn more.
2 SDKs
2.48 Avg. Rating
5 Total reviews

App Url: https://itunes.apple.com/app/72andsunny/id323895345
App Support: http://www.parisianpickup.com
Genre: Entertainment
Bundle ID: com.72andsunny.LeHardees
App Size: 17.2 M
Version: 1.0
Release Date: July 30th, 2009
Update Date: July 9th, 2011
Description:
Some things are better when zhey're French. Whether you're peecking up ze' ladies, insulting ze' dim-witted friends, or ordering ze' Hardee's French Dip Thickburger with ze' free fries & coke, say it better. Say it French! Choose one of three zweet accents or ze' authentic French with English subtitles.
Includes such time-honored Parisian zayings as:
"It is a good zing I'm explosives expert, no? Since you are quite obviously ze' bom!"
"You are late agaain, you lazee swine, I spit on you (ptooey)."
and tonnes more.
Features
? 3 handzome French mouths to choose from
? additional peeck ups, inzults and reactions for ze' free download
? free fries & coke when you order with the app
? le humor
? ze' freeness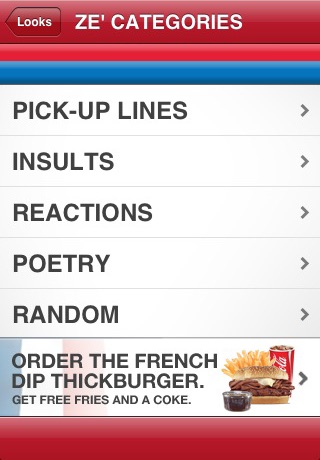 Good
The pre-packaged videos are hilarious. Only the old white guy is really French, though. Or at least he's the only one who really tried. The other two guys need work on their pronunciation. None of the other videos work besides the ones that came with the app. I've deleted and reinstalled several times and they always have the error "cannot open" after downloading. Please fix this!!
Can't hear it
Even with volume all the way up can't hear it. Cool idea needs volume improved!
Hilarious
Just pure awesome.
Knockoff Alert!
Lame commercial knockoff of Say It! Be original at least if you cannot be funny.
Earl of Norbatross
Further proof the French are only funny in the hands of America.
Facebook
The iOS SDK provides Facebook Platform support for iOS apps.
NixCamera
Nixplay Simple Fast camera inspire by LLSimpleCamera, video and picture capture in the same screen ,add simple confirmation screen