77Agency is an independent, innovative, new media marketing agency that provides new media consultancy, campaign management and training services to clients in a wide range of sectors worldwide.
We specialise in SEM, SEO, social media, affiliate marketing, media buying, mobile and technology development. Over 30% of our team are focused on IT and we have developed proprietary software to manage online advertising across all channels. We are pleased to be one of the first Facebook API agencies as well as having full agency accreditation from Google, Yahoo and MSN.
77Agency clients include American Express, Est?e Lauder, JP Morgan, Rackspace, Lavazza, RCS, SaxoBank, Buongiorno! and the Walt Disney Co.
Company Name:


77agency

(View Trends)

Marketing and Advertising

50 - 200 employees
3805846 Global Rank
203792 Spain
3.14 K Estimated Visits
Traffic Sources
Search

69.10%

Direct

21.50%

Social

7.01%

Referrals

2.39%

Display

0.00%

Mail

0.00%
Powered by
Global Rank 545,322 3,652,355
Links In Count 47 29
Mobile App Data
MixRank is the most comprehensive database of mobile apps, developers, SDKs, technologies, services, and integrations.
Learn more.
App Url: https://itunes.apple.com/app/77agency/id400706591
App Support: http://www.socialadstool.com
Genre: Social Networking
Bundle ID: com.77agency.facebookstats
App Size: 15.7 M
Version: 2.6
Release Date: November 8th, 2010
Update Date: July 3rd, 2013
Description:
Ever wondered how many 23 year old male Facebook users like online games in Italy?
Estimate the audience of your defined demographic and learn about education rates, age and gender distribution, and find out exactly how many people like the topic you define.
Advertisers can find vital information such as recommended monthly ad budget, expected clicks and cost per day, as well as suggested bid for their Facebook Ads campaigns.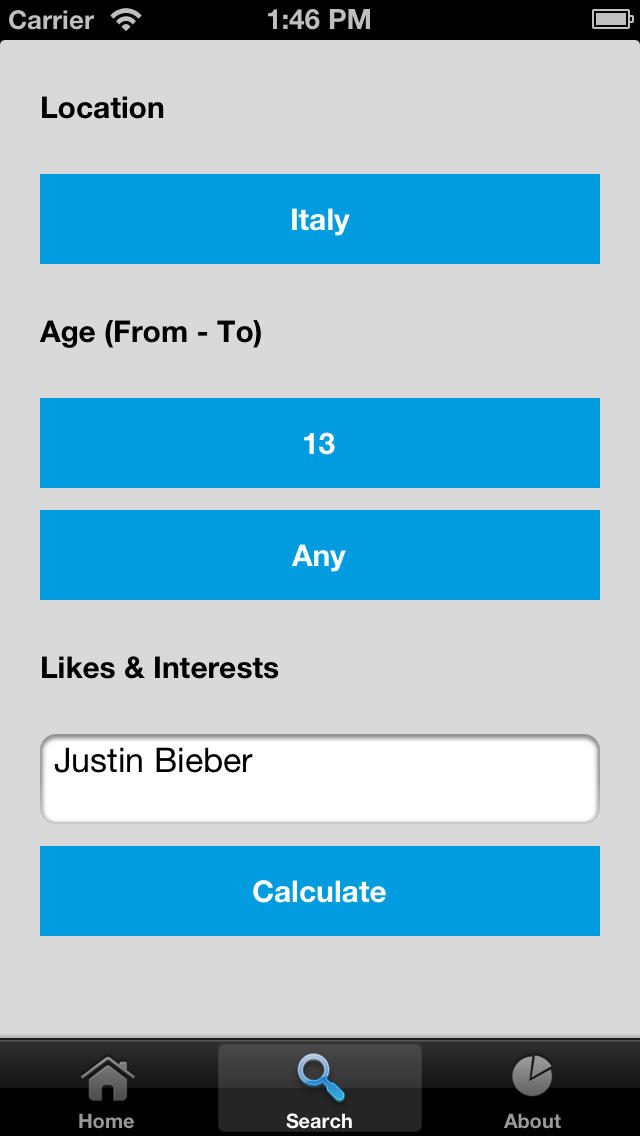 Useless app and fake reports
One of most useless app I've ever use. In every search I did, very report says that everyone likes everything everywhere...
Doesn't seem to work
This app was really promising, until I searched for interests of UK females aged 20-35... apparently 7,900,000 like writing, the same number that likes cars, anything, and the Falklands. Am I doing something wrong? Is there not enough data? Or do all these women have strange interests??
A real time great tool
A real useful tool for planning ads on Facebook. Well done!
Very accurate
Well as 10k Brits are interested in the Falklands but zero, yes zero Argentinians are interested in Las Malvinas, I'd say that this tool is incredibly accurate, well done developers! ;-)
Facebook
The iOS SDK provides Facebook Platform support for iOS apps.
SBJson for Objective-C
Chunk-based JSON parser for Objective-C.
TouchJSON
A humane JSON Objective-C un-framework. (TouchJSON has been deprecated - see README).
Longest Running Ad
Dates Active
Jan 04, 2018 to Jan 04, 2018